Creating beauty: That 'Tony' Factor
"Anything to do with living a beautiful life is what I want to pursue." And with these words, Tony Peng (28) cracks open a completely fresh and brand new approach to décor, eventing and styling in the City of Roses.
Born and raised (up to preschool age) in Thaba Nchu outside Bloemfontein, Tony has always had an eye for beauty in his surroundings. His father moved with his mother from Taiwan to SA to start a convenience shop in Thaba Nchu in the '80s. "We live in a beautiful country and Bloemfontein is a wonderful city. For now, I'm very happy to do what I love right here," says Tony.
Tony attended Grey College from preschool up until matric, whereafter he went on to study Hospitality Management at the Central University of Technology, Free State. The world was his oyster and he didn't miss out on any opportunity to gain experience in the hospitality industry. "I got to work at various 5-star establishments after my studies, such as the Saxon in Jo'burg and Mount Nelson Hotel in Cape Town."
He came back to Bloemfontein however, to complete his B.Tech in Hospitality Management, during which time he became an assistant lecturer at the Hotel School. "At that time, I was appointed supervisor for the VVIP suites during
the FIFA Confederation Cup in 2009 and in 2010 I was Senior Floor Manager of the Free State Stadium. I was basically in charge of the food and beverage services to the suites." It was during this time that Tony realised that age needn't be an issue when it comes to delivering a professional service. "I was young, but if you're in love with what you do and you do it with all your heart, age doesn't play any role."
You can't compare what Bloem people want to what they are doing in Cape Town or Jo'burg. Bloemfontein is a one-of-a-kind city
And with the jobs at the stadium being Tony's first taste of events – he instantly fell in love with it. Tony moved to Cape Town in 2012 to work at one of the leading event companies in SA but came back about six months later  wanting to rather do his own thing. "I don't regret any of my decisions workwise. You learn a hell of a lot if you try out different things. I wouldn't have been where I am today if I didn't head to different directions earlier in my life," he explains.
And in 2012, his eventing company, Envie, was born – a trendy, creative lifestyle and concept design company. "We focus on presenting and executing out-of-the-box ideas for spectacular events, celebrations, interiors and designs." And so, many brides, corporate companies  and casual clients in Bloemfontein have been asking for that "Tony look" when it comes to planning their events – there's been nothing quite like it before. "I would describe my look as striking simplicity. I don't like clutter. I like to keep it simple and balanced." When it comes to Tony's signature flower decorations and designs, he likes to play with contours, silhouettes and different textures. "You need to create depth and different levels of beauty within the space," he explains.
Tony's recent vacation trip to Tokyo has been playing a large role in his approach to designing and decorating. "I  learnt a lot there. Although it's an extremely busy city, everything is organised and there's a sense of tranquillity and order. This forms a big part of my design style."
He always uses flowers that are local and in season. "Unless, of course, the client specifically asks for a certain flower, which I then have to import. But it's always great to use what's local and in season. "There's definitely been a mind shift among Bloemfontein people when it comes to events and décor. People are tired of doing the same old same old over and over. Don't ever ask me to use a damn chair cover!"
Although he keeps his eyes open for global trends, Tony makes it his task to rather follow his own creative urge and not compare what he does to other eventing companies in big cities like Johannesburg or Cape Town. "First of all, you can't compare what Bloem people want to what they are doing in Cape Town or Jo'burg. Bloemfontein is a one-of-a-kind city. I'm just doing what I'm passionate about and hoping people like it."
The name of his company, Envie, is derived from the French words en which means "into", and vie, which refers to "life". "The word Envie also has a great balance to it. I didn't want it to bear a negative connection to the word envy. But I guess people can make of it what they want!" The power of social media, says Tony, has helped his business a lot. "At first, I didn't know if Bloem was ready for what Envie had to offer. But social media was a great tool in the process. I guess people were also on the lookout for something trendy and fresh in Bloem…?"
For Tony, collaboration in today's market is a must. "I'm all for collaborating with other young creatives in  Bloemfontein. We have to support each other and create a win-win situation for all. There's no room for unnecessary competition or nastiness." He's already planning great collaboration projects for the near future… we'd better keep our eyes open!
A touch of Tony in your home
We asked Tony to help us with ideas on creating the most beautiful space in your home for your festive dinner this holiday season:
Keep it simple. Clutter is never pretty. Less is more.
Incorporate live elements. Lots of fresh plants and owers. Create a vivid energy in the room. It doesn't even have to be owers – any elements from nature (i.e. branches from your garden!) will suffice.
Don't fake it. The only place where you can use fake owers is where people can't reach out and touch them. Keep them far away. They look cheap.
Keep the colours deep. This season, we're moving away from bright, 'springy' colours and we're revisiting our dark sides. Think seductive, black vases and edgy purple-stained glasses.
Have fun with it. Whatever you do, don't stress out and don't overcomplicate your decorating process. Turn to the outdoors – nature will always provide what you need.
Don't replicate. Yes, you can take a look at décor magazines and Pinterest until late at night; this is where you find tad bits of inspiration. Don't replicate someone else's style – tap into your own creativity. It's there, I promise!
Photos: Loren Battersby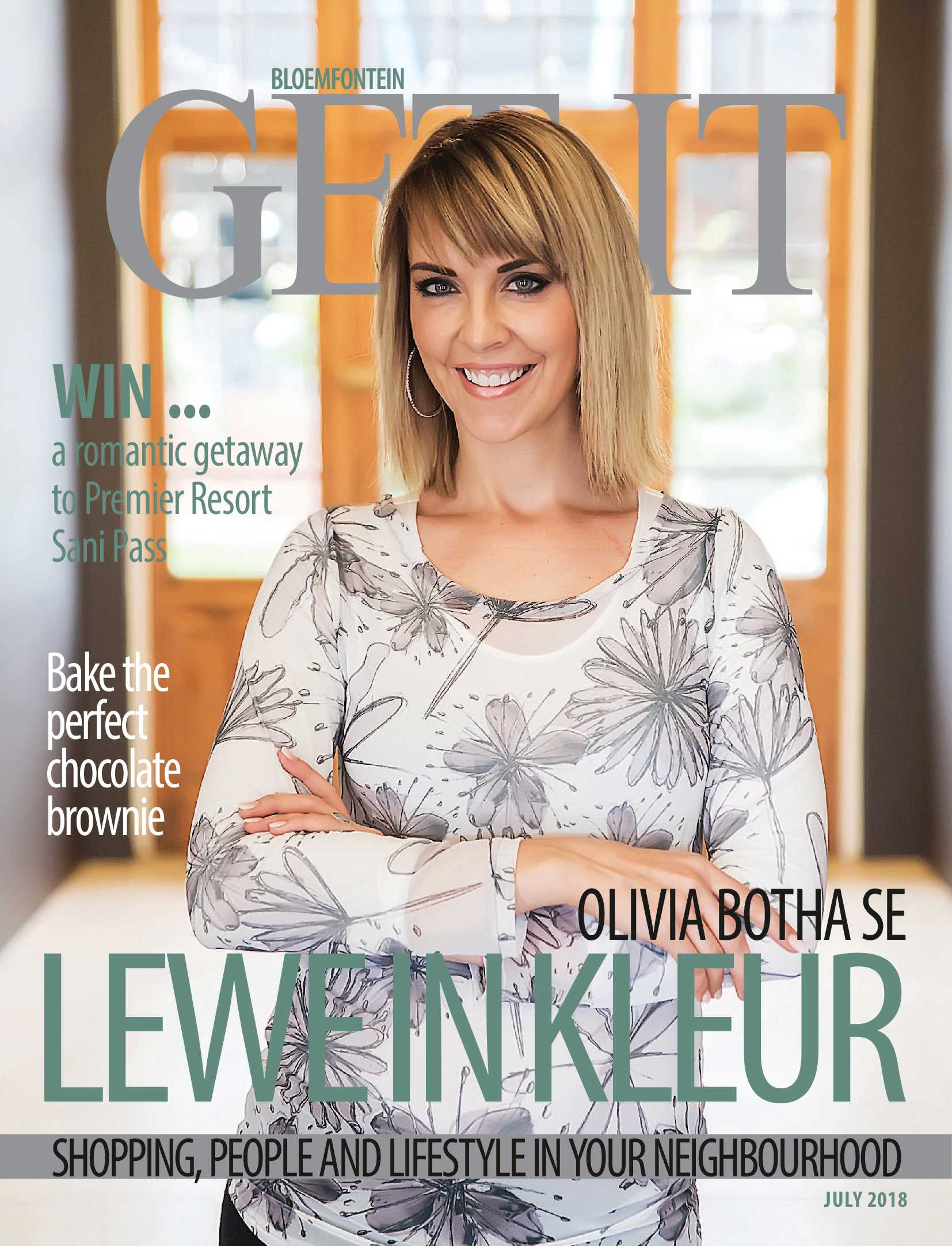 Sing Your Way To LA!
Pre-book your tickets to the smash hit sequel, Pitch Perfect 2 and stand the chance of winning a Contiki trip for you and your bestie!
is a national brand of premium free magazines available in centres across the country.
to see other Get It magazines in the network.