The laws of success, according to Jeannette Monahadi
Jeannette oozes confidence, grace, knowledge and some serious girl power as she sits down to chat to Get It about her super successful life and career. Jeannette has recently been appointed director of the Dispute Resolution Practice Group at Phatshoane Henney Attorneys. She is a labour law attorney and focuses on all matters within the field of employee relations. This includes recruitment processes, labour disputes, employment benefits, etc.
She was officially admitted as an attorney in 2014, but has been working for Phatshoane Henney for the past five
years. Becoming a lawyer has been a straight forward path for her – unlike her early school years. As a scholar at a previously disadvantaged school in a township at Kroonstad, Jeannette's grandparents – with whom she lived at
the time – decided to move her to Kroon Primary School. "Looking back, this was one of the best things they could have done for me. But there I was, a little seSotho girl who could not understand a word of English or Afrikaans,  stuck in an Afrikaans school. I had no way of communicating with teachers or friends, nor did I understand what I was being taught." Jeannette had to repeat one of her primary school grades because of this language issue. But she was born with a strong sense of perseverance. "I used to practise talking in front of the mirror every single day. I would watch television, listen to news readers and read the papers in order for me to get the words and pronunciation spot-on." Soon she was fluent in English and Afrikaans, and continued to excel at school. "My
background is what shaped me for the future. It made me stronger and contributed to my success," she says.
Her mother was a teacher in Bothaville and her father was unemployed for some time during her school years. This
was the reason for her living with her grandparents, while her parents did what they could to let her attend a private high school. "My mom and dad ran a spaza shop in the township to pay for my tuition in high school. Although they did not have much, they wanted to give me the best and did what they could to make it happen."
I am capable of doing anything once I set my mind to it. I just have to believe it.
It is this strong sense of perseverance that saw Jeannette jump right into the gruelling, challenging world of law, wanting to make a success of her passion. After finishing school at Calculus College in Kroonstad, Jeannette wanted to spread her wings somewhat and started her studies in law at the University of Johannesburg. After graduating, she decided she wanted to come to Bloemfontein, realising there were excellent opportunities available in her profession. She landed a job at Phatsoanne Henney Attorneys and is forever grateful for the doors that have opened for her since.
She specifically chose the labour law industry above other options because of the dynamic nature thereof. "Labour
disputes involve some serious human emotions from either the employee or employer's side. I don't only deal with the black and white facts, I have to empathise and deal with people's feelings in a sensitive manner. Most of the time we're working with people's livelihoods, and this is a touchy subject."
Jeannette admits that being a young, black female in a predominantly male environment, is not always easy for her.
"People and clients tend to be sceptical when they see that I will be handling their case. They question my ability to get the job done." Her power tool, she tells us, is to act as confident as she can (this is a result of her years of childhood speech training in front of the mirror!) "Confidence is everything. People take you seriously when they see that you can stand your ground and that you're not intimidated by anyone." And of course – power dressing. "I'm no fashion slave but I like to put some thought into my wardrobe. If I'm handling a difficult case, I make sure I wear the
highest heels I can find!"
The University of the Free State and the Central University of Technology, FS, are two of Jeannette's biggest clients. She deals with some serious labour issues from these two academic institutions from time to time. She mentions a recent labour case involving the CUT and a former employee accused of hiring a hitman to murder a co-worker. This case ended up at the CCMA, for which Jeannette was served an arbitration award. This was one of the highlights of her career so far. "These types of cases have not been easy. I've been thrown into the deep end by my superiors since the beginning, and that has helped me a lot. You have no other choice than to swim."
Jeannette works extremely long hours. She still makes time to lecture part time in Labour Law at the UFS. She also does pro bono work when she can. To relax, she loves indulging in poetry, reading, exercise and hang out with good friends. "I try my best to go to the gym every day. If my body is healthy, my mind is bright. I also drink a lot of water, don't smoke and don't really drink." She sees herself practicing labour law for at least the next 15 years, but would someday like to dive into the academics. "I would love to give back to the community.
Teaching others what I have been taught gives me so much joy." She acts as a motivational speaker at schools, and any issue regarding women struggles are close to her heart. She has been part of a charity project that provides sanitary products to underprivileged girls in rural schools.
Some of the biggest lessons Jeannette has learnt in the past few challenging years, is to stop underestimating herself.  I am capable of doing anything once I set my mind to it. I just have to believe it."
Photo: Eye Poetry Photography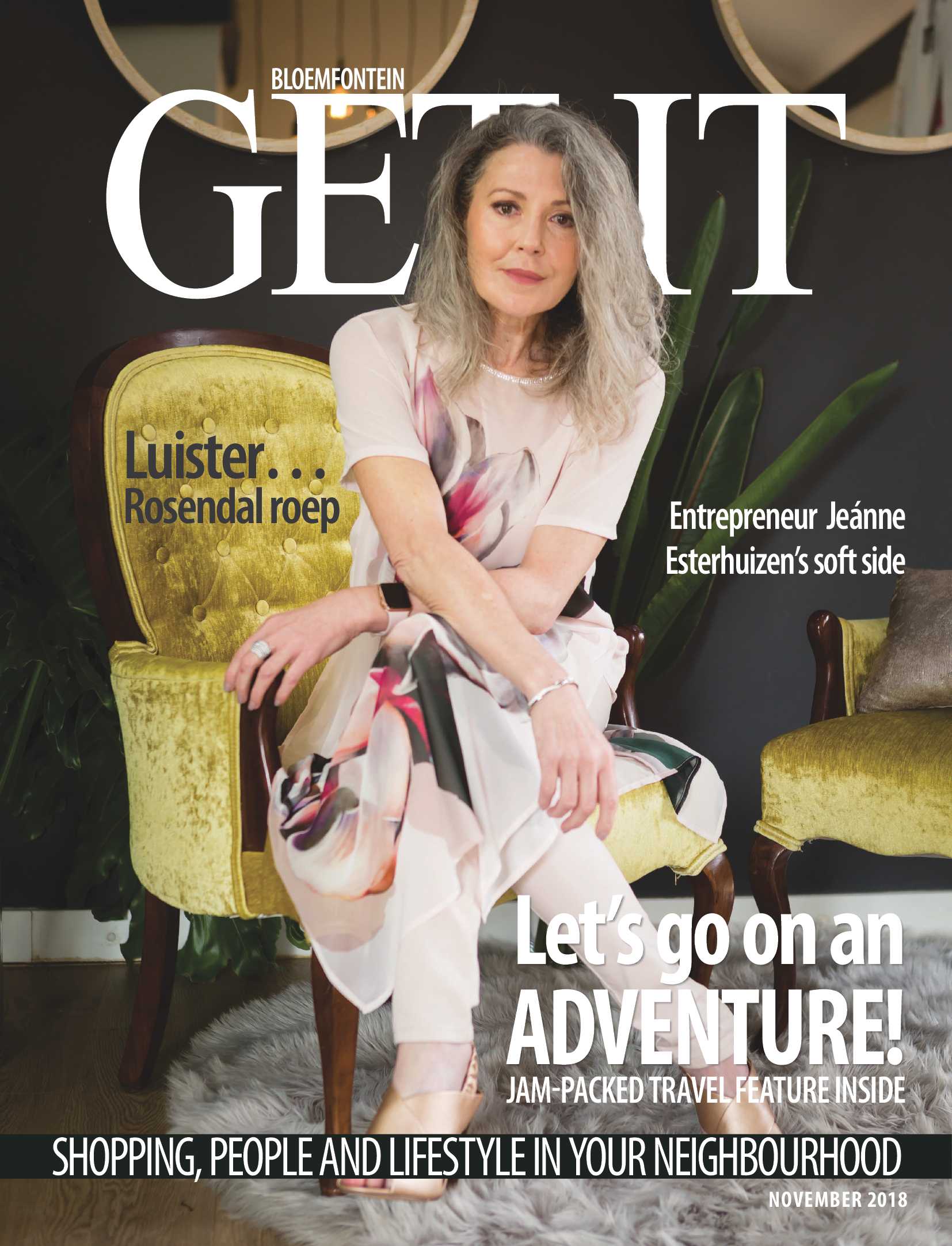 Sing Your Way To LA!
Pre-book your tickets to the smash hit sequel, Pitch Perfect 2 and stand the chance of winning a Contiki trip for you and your bestie!
is a national brand of premium free magazines available in centres across the country.
to see other Get It magazines in the network.