Patso Nikolov's appetising adventure
You'll immediately notice the X factor as soon as you set foot in the popular restaurant, 59Plenty, and its adjourning art gallery, Gallery on Leviseur. It's because chef and on things.
Patso's story starts in 1977 in the Bulgarian town of Sliven, where he was born and schooled. His father owned several restaurants, which is where Patso's love for food and hospitality originated. "I worked as a waiter in my father's restaurants from a very young age. He also put me in the kitchen quite often, which I really enjoyed."
Although he went off to study for a dental technician, cooking has always been his fi rst love, which made him
pursue a career as a chef instead. Fast forward 20 years, and Patso has worked in a total of 17 restaurants all over the world. It was in countries like Ireland and the UK and a city like Houghton where he perfected his craft in the kitchen. He even worked at a hotel in Marlow which had won a Michelin Star – the highest grading of excellence in the culinary world.
But Patso's greatest stamp of excellence came in the form of a special girl… he met his South African (Pretoria – to be exact) wife, Ilze, in 2004 when they both worked at a hotel in Ascot. She worked in sales, while Patso worked as a chef. "We were very happy and had the time of our lives. We dated for four years before we decided to settle down and get married." Their life consisted of constant travelling. They tied the knot in Bulgaria in 2008 and their first son was born in South Hampton. A short visit to South Africa persuaded them to pursue a more peaceful lifestyle, and
they relocated to Bloemfontein in 2011.
"When we worked in the UK, we had no social and family life. It was all about work. I never saw my son due to the extremely long hours I had to work in the kitchen. People are also not so community driven in the countries where we worked. You didn't have any friends outside of your work environment. Here, in Bloemfontein, I can have a more laid-back lifestyle, my children can go to good, affordable schools, and we have friends outside of work. No country
or life is perfect, but this is perfect for us."
Patso and Ilze took over her mother's business, a small bakery, in Bloemfontein in 2011. In 2015 he started working as a Chef at 59Plenty, and in 2016 he took over the business. The restaurant is truly one of a kind, because of the
unique pairing of food and art. All forms of art. Music, visual art, sensory art… "I want to create a culture at my restaurant that doesn't only appeal to the stomach. When you visit us, you must get food for the soul as well. I want this space to become a nest of art."
One glance at the menus at 59Plenty gives you an idea of his commitment to the arts. Every other page has prints of
artworks, with a translucent page over it, containing the menu. The gallery and restaurant attract food and art lovers
who typically enjoy a slow- paced life. The gallery focuses on exploring and celebrating the works of young artists.
"Young creatives need to be good to each other. We need to support one another," says Patso. He recently started interactive food sessions at his restaurant, like crash courses on pasta making, chocolate tempering and sushi making. And his plans for the future of the restaurant are endless. He and his team basically embrace any crazy idea. "We've had two proposals and four weddings at the gallery and restaurant. And fashion shows. And musical performances. We want to make this beautiful space and its art accessible to anybody."
"People often ask me, why don't I go overseas again? Why don't I go to Johannesburg or Cape Town, where the money and opportunities are? It's because I have everything I need right here in Bloemfontein," smiles Patso. For him, Ilze and their two sons (now 7 and 3), life couldn't get any better. Ilze works at the UFS's housing department
where she started the fi rst post-graduate accommodation on campus – the Kovsie Inn.
"People take the South African (and the Bloemfontein) way of living for granted. We have everything we need here, and we have quality of life. It's peaceful here, and the size is just right." But it is Patso's travels around the globe in his younger years that have inspired his out-of-the-box thinking. At 59Plenty, his vision of creating an affordable, yet luxurious lounge space where all kinds of art are combined and creative minds come together, is evident of his attitude of forward thinking.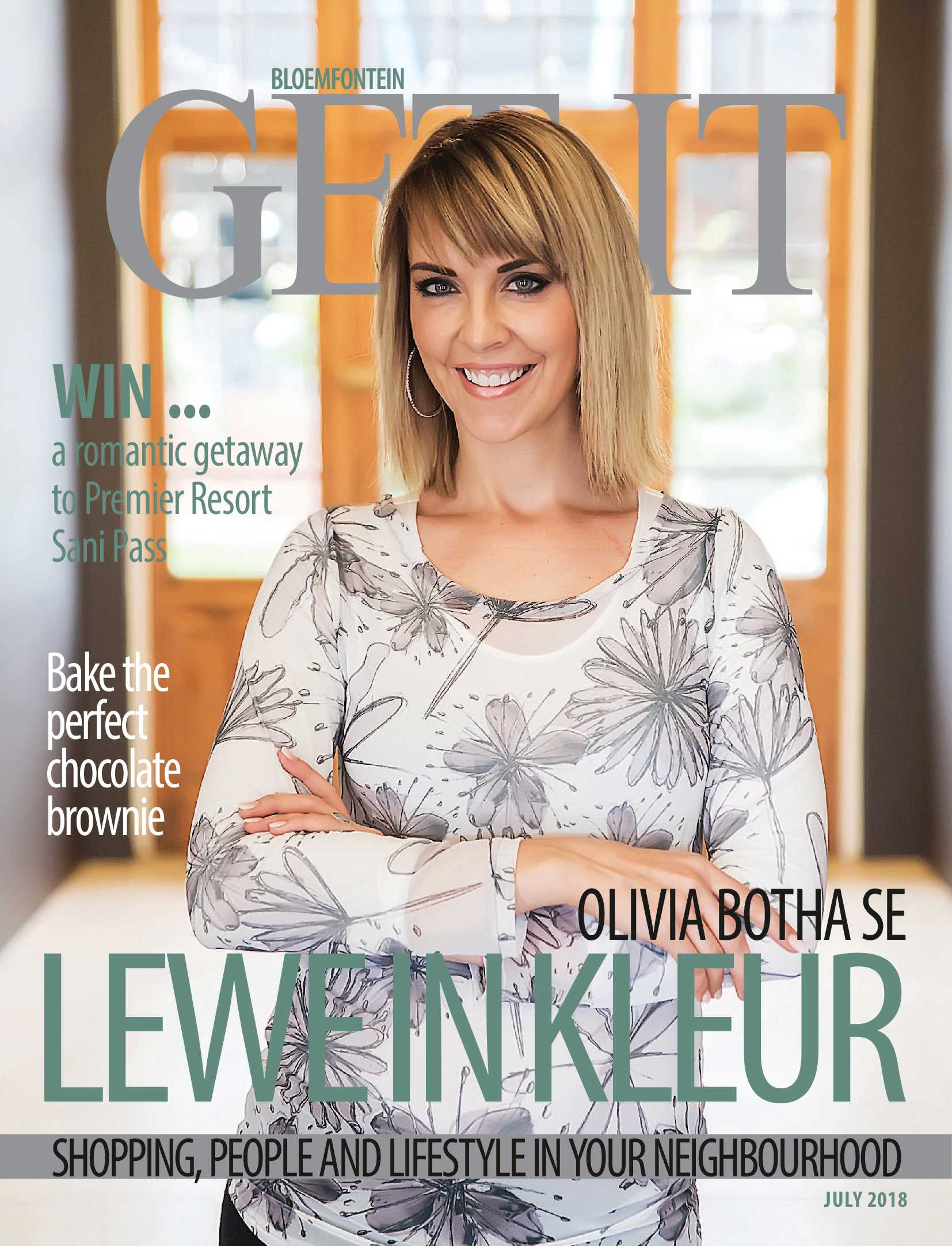 Sing Your Way To LA!
Pre-book your tickets to the smash hit sequel, Pitch Perfect 2 and stand the chance of winning a Contiki trip for you and your bestie!
is a national brand of premium free magazines available in centres across the country.
to see other Get It magazines in the network.