Annemie Williers: Not your typical tomboy
Firstly, BIG congratulations on winning the Miss Free State (SA) 2018 crown! How has your life changed since May 18?
Since the crowning, my life has changed immensely, but not completely. I am still that same person I was before I had a crown on my head. But, different. My ambitions have become bigger and my support system has expanded. I have so much to be grateful for. Having all of these amazing sponsors behind me is a blessing. I practically have an army behind me now. Doing the impossible now, more than ever, seems possible.
Give us some background on yourself.
I grew up in a small town in the Northern Cape called Postmasburg. I am the middle child of three. My family means the world to me. My fondest childhood memories were all caught on tape. My parents always made home videos of us. And I can clearly remember all the holidays my parents took us on and the shows we put on for them. Coming from a small town like Postmasburg, Bloemfontein was this big wonder in which I always lost myself as a kid. I was  actually born in Bloemfontein. We came here to visit doctors a lot.
You are currently studying Genetics and Physiology at the UFS. Why did you choose this field?
I chose this field because I believe that science really can make a difference in lives. I want to help create the new era of medicine, which, in my opinion is genetic engineering. I have always been fascinated by the human body.  unfortunately, due to financial circumstances I had to take a gap year this year. I will, hopefully, be continuing my second year next year.
What is it about the Free State that tugs on your heart strings?
The Free State is warm and welcoming. Not being raised here, I feel like this is my home, all thanks to the people
who make it so welcoming.
What will be your main focus areas be during your reign as Miss Free State?
There is a lot that I want to do as your Miss Free State of 2018, but I will need the community's help. My main motto for this year is to be responsible and accountable. There are the Clean & Green and Nourish the Children projects. I want to focus on the well-being of our hospitals, retirement homes, schools, orphanages, animals and the community that is less fortunate than us.
Why do you think people often have a misconception of beauty pageants?
I think because of people only seeing the big show and not being behind the scenes, they don't really know what
goes into a beauty pageant. They can't see the personal development that the contestants undergo. Miss Free State
took me out of my comfort zone, it made me believe in myself. I had the opportunity to grow. It made me realise
that there is so much more to life than just living and that I am capable of so much more.
Give us a glimpse into your daily life.
A typical day to me is making healthy food, going to the gym, being active on social media and doing my Miss Free State duties. I am currently working on six projects that involve a lot of networking, meetings and driving around. My sister is also here in Bloemfontein and I help her whenever I can. Some days I do work for Perky Jams as well. I try to make time for myself by reading and playing games. I don't think I will ever stop learning. That is why I am
teaching myself to speak Setswana. My mother's work made it possible for her to study, so I help her with her  Business Literacy.
Your go-to beauty secrets?
Coconut oil! I use it as a body lotion and I put it in my hair as a treatment. Beauty starts from within, that is why I also believe in the 'power' of spinach.
Are you going after the Miss South Africa crown?
Absolutely, if the time is right for me to enter. It is a lifelong dream of mine.
We can imagine that it's quite nerve-wracking to walk on stage in a swimsuit! Do you have good genes to thank for
your lean body?
I have learnt to love my body unconditionally. With all my flaws. I am comfortable in my own skin. I do have a few good genes to thank. But every day I feed my body what it needs. I believe in balance. I have hypoglycaemia, so I eat about six times a day. Sometimes I want blueberries and other days I want salt-and-vinegar chips. I love working out. I wasn't athletic in school but I have been going to the gym since Grade 5. I work hard for the body I have but I also take care of it.
What do you do to relax?
I draw, write poems, dance, read and I also play games.
An interesting fact about you?
Thanks to my dad, I know a few things about the construction, electrical and mechanical world. I really am a
tomboy, I love motorcycles and speed.
On Annemie's bucket list:
Driving with a Formula 1 racer.
Speaking 11 languages.
Becoming Miss South Africa and Miss World.
Doing advanced and 4×4 driving courses.
Meeting Karl Lagerfeld.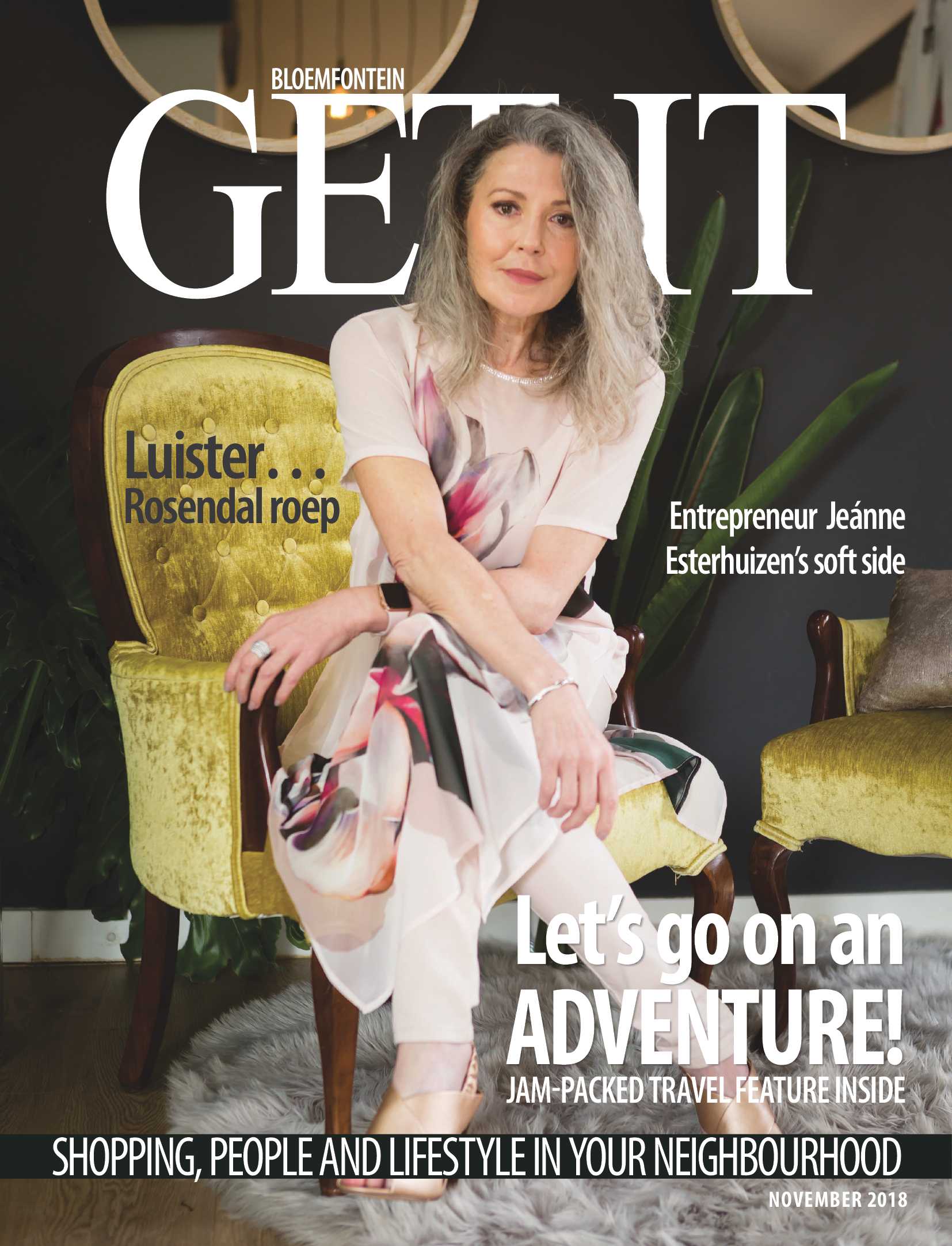 Sing Your Way To LA!
Pre-book your tickets to the smash hit sequel, Pitch Perfect 2 and stand the chance of winning a Contiki trip for you and your bestie!
is a national brand of premium free magazines available in centres across the country.
to see other Get It magazines in the network.