Stay a day at Cure Day Clinic
Bloemfontein is slowly but surely catching on to the concept of skipping the whole hospital visit and instead making use of day hospitals for minor procedures. Cure Day Hospital in Bloemfontein aims to offer patients a unique and relaxing experience when having procedures done. Cure Day Hospital is a medical facility which offers a variety of
same-day procedures. When setting foot in the hospital, the trendy décor and smiling faces give a glimpse at what you can expect during your stay there. The Bloemfontein Cure Day Hospital is one of eight countrywide. Anieka van der Merwe, Marketing Manager in Bloemfontein, says all Cure Day Hospitals are state-of-the-art facilities with a convenient layout and modern décor. "We provide the latest technology equipment, based on the offering at each facility but also according to needs arising. We specialise in sameday surgery, which does not require overnight stay."
The Bloem facility has 21 beds and three theatres. This hospital has been operational since January 2015 and strives to provide the community with quality and affordable day surgery. This hospital has gone from strength to strength
over the last 3 years.
What procedures can be done at a day hospital?
The list of procedures that doctors off er at the Cure Day Hospital include ear, nose and throat surgery (popular ones are the dreaded tonsils removal of your little ones, as well as nose surgery related to sport injuries), general surgery, gynaecology, oral and maxillofacial surgery, dentistry (for example having the wisdom teeth removed), orthopaedic
surgery, urology (circumcisions and bladder procedures) and gastroenterology and cosmetic surgery. "We also have a lot of patients here who are receiving pain blocks for back problems," says Anieka. They also do coglear implants and eye procedures including cataract removal.
Why skip the acute hospital and opt for a day hospital?
The advantages of visiting a day hospital are actually so obvious. Because it does not require you to stay overnight, the costs and overheads are much less than that of acute hospitals. It also saves valuable time for patients and  doctors. The admission and discharge processes are fast, the facility is child friendly, there's a significantly lower chance of infection. Day hospitals off er an efficient environment. Procedures are also more affordable to private
patients, than that of other acute private hospitals. If you're wondering whether your medical aid will cover your procedure at Cure Day Hospital, make contact with them or have your doctor enquire on your behalf.
Giving back
Cure Day Hospital in Bloemfontein focuses on CSI projects and strives to give back to the community. Last year, they performed free operations on ten children from an orphanage, free of charge. This year, they're supporting the Public
Health Sector by helping to reduce the huge backlog in the Urology Department with operations.
What do patients say?
"When we speak to patients after using our facilities, the most popular feedback we receive, is that our staff is extremely friendly and helpful. They're also appreciative of the clean and neat environment," says Anieka. The facility is family friendly – meaning you can bring close family to support you during your procedure.
And what else?
Well, you can bring your baby to the wonderfully equipped Baby Wise Clinic for all the vaccinations, check-ups and consultations. (Just phone Anneke Landman at 082- 941-0059 for an appointment.) There are general practitioners on site, Van Rensburg Pathologists, physiotherapist and many more. We also have to make mention of the fantastic restaurant and coffee shop, Café Cura, where you can eat, drink and relax while your loved one is in for a procedure.
Visit Cure Day Hospital at Free State Medical Centre, 29 Poole Street, Brandwag.
Online: www.cure.co.za. • Tel: 051-072-0018.
Other Services Available
Café Cura
051 813 2936
Theatres
051 072 0018
Baby Clinic (Anneke Landman)
082 941 0059
Physiotherapist (Henriette Tredoux)
082 335 0234
Ophtalmologist (Dr Niel van Wyk)
051 011 8848
GP (Dr Wian Stander)
082 459 1810
ENT (Dr Willem du Preez)
051 444 0331
Van Rensburg Pathologists
051 813 2902
Renal Dialysis
051 813 2925
Optometrist (Risna Heyns)
060 742 2212
Radiologists (Van Dyk & Vennote)
051 400 7850
Prosthotist (Dr Cules van der Hever)
082 679 7338
GP (Dr Sonia Hattingh)
051 444 0614
Dermatologist (Dr Daleen Strauss)
051 444 0137
Maxillo-facial (Dr Charles van Niekerk)
051 011 7009
Ophtalmologists (Prof Wayne Marais, Dr Shelley Barrett)
051 444 2585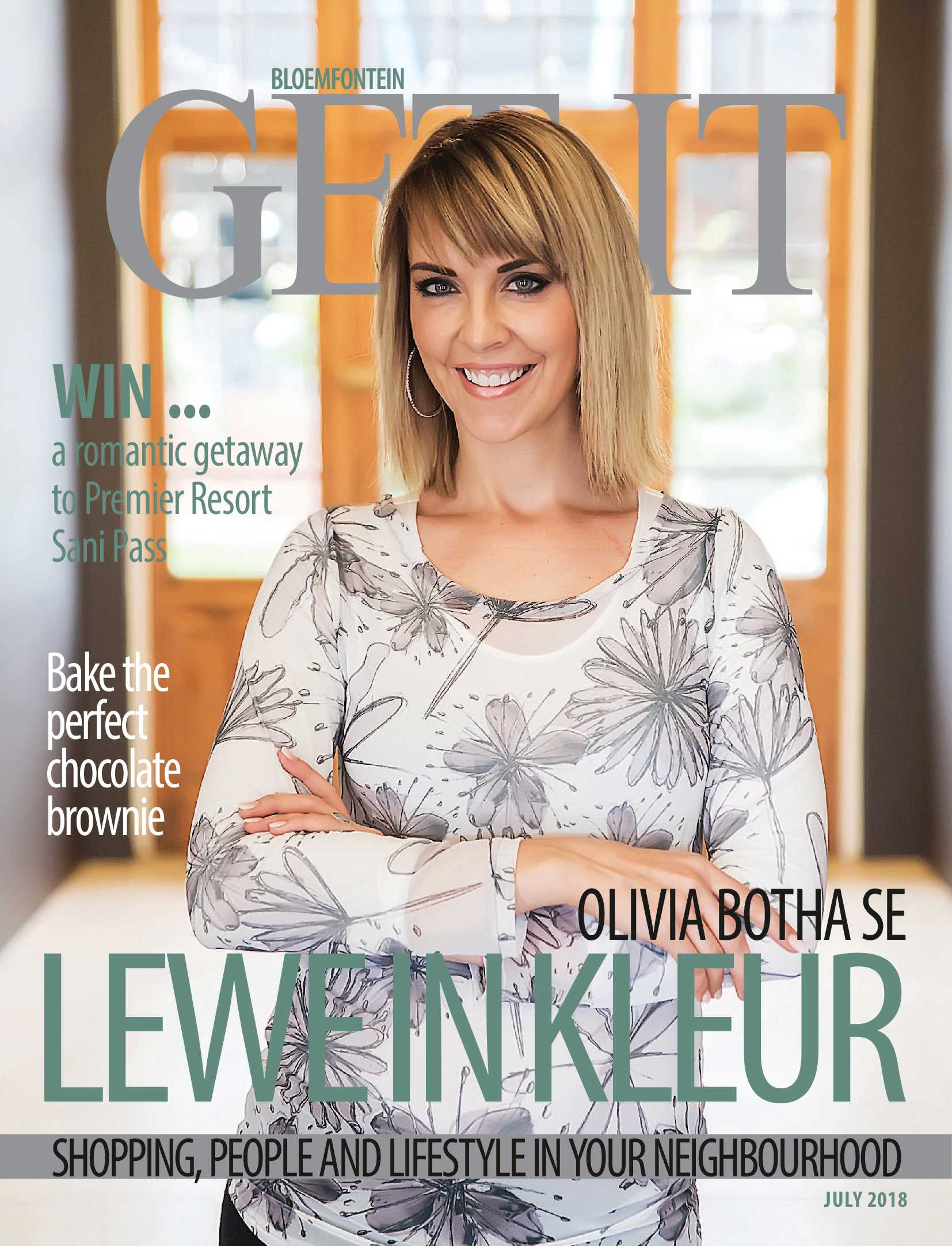 Sing Your Way To LA!
Pre-book your tickets to the smash hit sequel, Pitch Perfect 2 and stand the chance of winning a Contiki trip for you and your bestie!
is a national brand of premium free magazines available in centres across the country.
to see other Get It magazines in the network.