On Janice Solomons' plate
"To me, being defined as a chef would be the recollection of food through my personal experience, gathered from different events in my life."
Ever since Janice can remember, food has been part of her life. As a young girl from Heidedal, she attended the Olympia Primary School, where her love for simple, yet delicious snacks tickled her interest in cooking. "I can still recall crossing the street after school, in a rush to buy myself some fudge and a tameletjie. It's one of my fondest memories." (A tameletjie is basically caramelised sugar mixed with butter. Seriously yum.) Most kids develop a passion relating to their social environment, for some it may be sport, for others a challenging math equation, but for Janice, it was simply food. "As I recall the smell of that hot, fresh porridge at kindergarten… I get goose bumps all over again. Just the smell of that brown sugar melting away in a pot of goodness…"
Growing up, Janice's mother was the one who introduced her to good food, and she remembers all the hearty meals her mom had prepared for her and her siblings. "On special occasions such as Christmas day, my lovely mother always pushed her own limitations by offering something entirely new on our dining table. A dish as simplistic as vetkoek or breyani with homemade pickled fish was always amazing. Or just that juicy sliced watermelon in summer,
homemade peach jam – sweet, just the way I like it." Her home was always filled with aromas that truly pushed her creativity and taste buds to a higher level. "It was love always – presented on a plate."
It's Janice's inherent love for food that made her decision to make a living from it an easy one. After school, she studied Hospitality Management at the Central University of Technology, Free State. But in between, her food journey took her to many exciting places. She worked with local celebrity chef, Suné Niemand, who has had a huge impact on her career. "She has broadened my mind to a whole other dimension of the food industry, of life, and of so much more." As her career moved forward, Janice worked in the Drakensberg area, Graaff -Reinet and South Africa's gourmet capital, Franschhoek. She also worked in the USA for some time.
All these exciting journeys ultimately had her coming back to her roots in Bloem, where she is making a name for
herself in the culinary world. She currently works as a lecturer at the CUT, runs her very own cooking channel on YouTube, and is working on her first recipe book, due to be published soon. She absolutely loves conveying her food knowledge to young, eager students. "There is nothing more liberating than educating students on the world of culinary art. It keeps me on the edge of the latest food trends. Although my acting position is to educate, I am the one who is educated every day – by my students. They help me come to terms and make me realise that there is always room for continuous growth."
Her YouTube videos are aimed at people of all ages and backgrounds, in hopes that it will bring families together
through fun activities in the kitchen. The videos are posted on a weekly basis and are also broadcast on television (StarSat) on Channel 462.
Janice is married to the love of her life, Levert Solomons, and together they have two beautiful daughters. "Having
children has taught me how important it is to be health conscious and mindful of what we feed our bodies. I do my best to ensure that we all lead a healthy lifestyle."
Foto's: Carine Botha.
Janice's ultimate chocolate mousse
Mousse
6 eggs
130 g sugar
400 g dark chocolate
7 gelatine leaves
700 g fresh cream
Soak the gelatine in cold water then dissolve in hot water. Make a sabayon with the eggs and sugar. (Meaning whisk
eggs, sugar over gently boiling water). Melt the chocolate and add gelatine together. Fold the chocolate and gelatine
mixture to the sabayon. Fold the whipped cream and pour into mould. Keep frozen until needed.
Chocolate glaze
120 ml water
220 g wugar
150 g chocolate
30 g cocoa powder
60 ml heavy cream
4 gelatine leaves
Soak the gelatine in cold water. Dissolve the (120g) water and sugar by bringing it to a boil. Remove from heat add the chocolate, cocoa powder and the heavy cream warm it up. Add the gelatine. Sift the mixture and wait for it to cool before pouring it onto the chocolate mousse. Side note: 5-6 sheets of gelatine leaves are equivalent to 2-3 teaspoons of gelatine powder.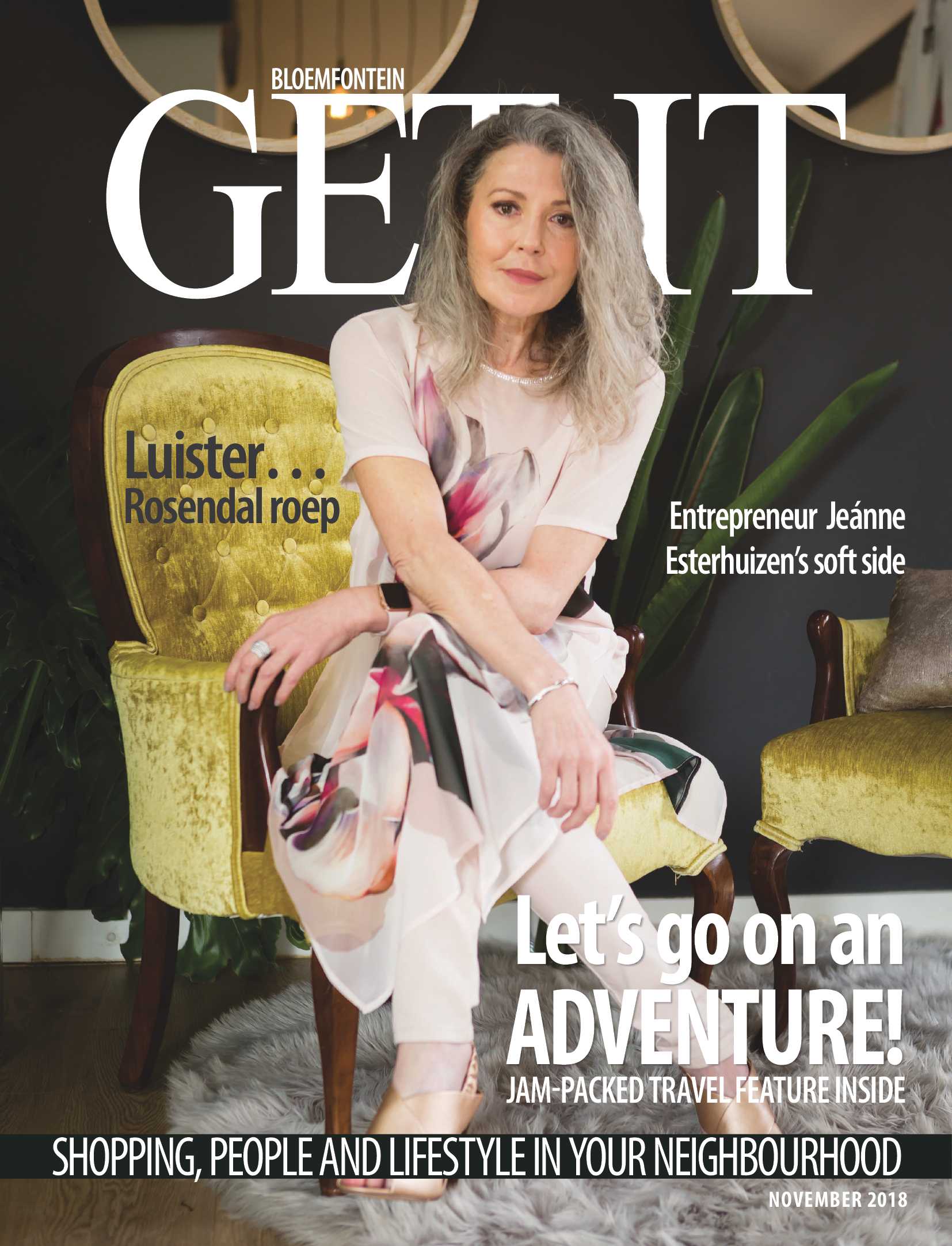 Sing Your Way To LA!
Pre-book your tickets to the smash hit sequel, Pitch Perfect 2 and stand the chance of winning a Contiki trip for you and your bestie!
is a national brand of premium free magazines available in centres across the country.
to see other Get It magazines in the network.